DESIGNING FOR THE 2018 AGTA SPECTRUM AWARDS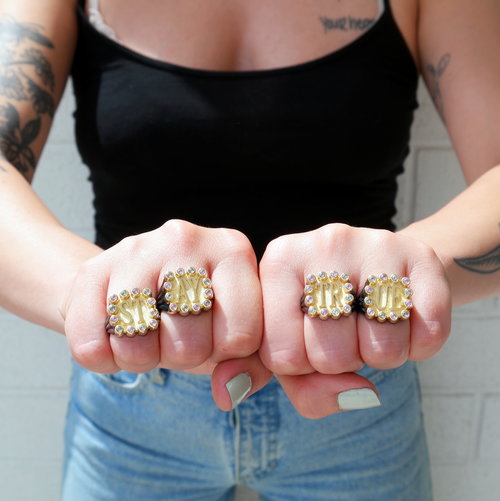 The AGTA (American Gem Trade Association) Spectrum Awards began in 1984 as a competition for the creative use of colored gemstones and cultured pearls. Today they are the most respected and prestigious design competition for the jewelry industry. Winners set the standards of excellence for the entire industry. The Spectrum Awards competition has launched trends, increased visibility for designer jewelry, and inspired great innovation in use of color and materials. Every entry into the competition is evaluated with a meticulous eye for innovation, quality, craftsmanship, and beauty.
 In the past, I have been fortunate enough to flex my creativity and intuition for my clientele through custom design. I truly owe much of my industry recognition to the amazing relationships I have forged with my clients. I have been able to enter custom design pieces on loan as my yearly Spectrum entries. Though this is not the typical industry standard, it has proved an immensely successful strategy for me as I have amassed 17 Spectrum awards throughout my career. Not by surprise, this strategy has also amassed a large collection of Internationally recognized pieces that belong to the local community here in Raleigh, Durham, and Chapel Hill, North Carolina.
This year I wanted to take a moment outside of my usual client design schedule and find a way to bring attention to the strong and powerful women that have been increasingly brave in their fight for the truth. Though the Spectrum Awards are not typically politically charged, I felt a strong pull to use my art to share my acknowledgment and support for the women in my life and beyond. I had my team here at the shop come up with some ideas for what they thought represented the women's empowerment movement to them personally. We sat down together and talked about what these words and ideas meant, and even spoke with some clients who stopped by the store that day to get their impressions. I knew I wanted to do a set of rings that each had two letters. The idea being that separate they wouldn't hold meaning but together they form a cohesive piece that had a message. We then brought the top two ideas to our local Facebook and Instagram community to get their thoughts. The overwhelming vote went to "Stay True". The coming together of my community to help design these rings was an incredible experience. It is my hope that these rings symbolize the act of Staying True to yourself, speaking up, and that by working together we all can make change happen.